Welcome to Great Cakes by Gina....
….dedicated to supplying high quality, handmade cakes that you will love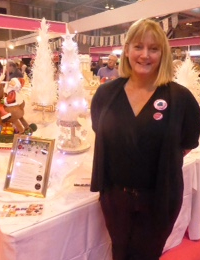 Even from an early age I had an interest in baking cakes and decorating them, using whatever ingredients I could raid from my mother's cupboards! It was a cake presented to me for my 18th Birthday that really sparked my creativity and interest in cake decorating.

The first decorated cake I made was for my then boyfriend 's 21st birthday (now husband of over 20 years!) Encouraged by the positive comments about that cake, I decided with my mother, to enrol on an adult education evening course. Having gained practice at the basics, I decided to take the next step and enrolled on a City and Guilds course at West Kent College, passing level 1 in 1997. Around the same time, I quit my job in the Banking Industry, and changed to work more locally in food retail, whilst continuing to make cakes for close family and friends. The arrival of 2 children a few years later meant that my free time diminished, and things were put on hold!

As the boys have grown my interest in cake decorating has rekindled, and in January 2015 I made a New Years Resolution to start up my own business. Playing around on paper with my initials "GR" placed next to a random doodled phrase "Eat Cakes" soon became Great Cakes! (GR eat cakes)

I passed my food hygiene level 2 (my work in the food retail sector requires me to update every 6 months). Passed my assessment with the Food Agency gaining a 5* rating.

To keep up to date with new ideas and techniques I attend regular meetings at our local branch of the British Sugarcraft Guild. I am a pro member of the Paul Bradford sugarcraft school and have made pieces for the PBSS display at Cake International for the last few years, as well as entering my own competition pieces.
Testimonials
"Thanks for the cake, it was fantastic" SH Crowborough

"My cake was absolutely stunning and tastes delicious" JW Crowborough

"You have no idea how fantastic your cake was, everyone loved it so much - thank you for you thought and expertise" SR Crowborough

"Thank you so much, it made it to London in one piece and was admired by all" SB Mayfield

"I wanted to let you know how well the cake went down with everyone, it was a great success and was delicious, I have given out your card , we will definitely recommend you. Thank you for working so hard on all the extra details" CB Hawkhurst

"My cake was an absolute masterpiece! Just amazing, tasted as good as it looked. Well done and a big thank you" LS Heathfield

"Thank you for the lovely cake you made, it was beautiful and tasted fab!" JG Crowborough

"The cake was fabulous, so many wonderful comments" CH Pembury